Product review
Dior Capture Review
Overview
Dior Capture is a skin care line that focuses on the reduction of fine lines, age spots, crow's feet and wrinkles caused by excessive exposure to the sun and/or the natural aging process. From the Dior Capture R60/80 Wrinkle Eye Cream, to the Dior Capture Totale Night Cream, to the Dior Capture Totale Serum, Christian Dior skin products aim to address the anti-aging phenomenon. The key patented ingredient in the Dior Capture product line is the Alpha-Longoza Complex, which is derived from a rare revitalizing plant. Centuline Complex is also a primary active component of Dior Capture treatments. These Dior skin care products can be found in numerous high-end department stores, as well as on the web.
The Dior Capture anti-aging line addresses a number of common issues regarding facial skin and overall complexion tone. While the Dior Capture Multi-Perfection Eye Treatment endeavors to remedy dark circles, fine lines and puffiness; the Capture Night Cream is formulated to increase collagen production and promote skin cell repair. The Dior Capture treatment products are essentially derived from the well-known fashion designer, Christian Dior. This can turn some serious consumers off, since the cosmetic product line can be viewed as an "afterthought" extension of the Dior fashion brand. While Dior skin care products and cosmetics are primarily produced in France, they're sold world-wide.


Product Details
The Dior Capture skin care treatment line is aimed at battling common signs of aging such as fine lines, crow's feet, dark spots, sun damage, sagging and wrinkles. The notable ingredient in the Dior Capture products is the Alpha-Longoza Complex. This primary ingredient is found only in Madagascar. The unique complex is added to assist in the production of collagen and new skin cells. The idea is to promote more youthful complexions and smoother skin.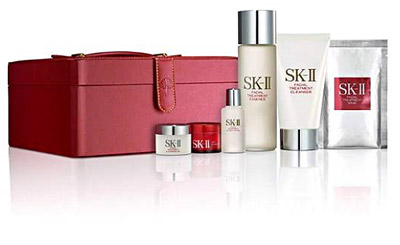 SK-II
The SK-II Loyal User Study
The facts speak for themselves. Read on to find out what a recent study revealed about the power of Pitera™. In February and March 2008, SK-II conducted a scientific study on the skin conditions of 95 long-term users of SK-II and 210 non-users.
The results of the study revealed that loyal SK-II users have:
■Clearer and more translucent skin compared to non-users.
■Better basic skin conditions, such as lighter skin tone, compared to non-SK-II users
■Better moisturization levels and skin firmness that is closer to that of younger women
■Better sebum condition
The proof was clear. 80% of loyal SK-II Facial Treatment Essence users agree it is their best skincare investment decision.


And what did the experts say?
Dr. Greg Hillebrand, P&G Principal Scientist, commented: "This unique epidemiology study has helped confirm what loyal SK-II users have long been saying. That their skin is bright, hydrated, youthful and balanced. In hindsight, considering what we found with regard to their skin condition, it is not so surprising that SK-II users were overall less bothered by the signs of skin aging."

Review: EstÉE Lauder Idealist Skin Refinisher
I guess this is confession time. I saw that 96% of the reviewers of Estee lauder Idealist Skin Refinisher highly recommended it but the cost is very pricey, I thought they must have all hit their heads. I have never paid that much money for a beauty product. However, I purchased a bottle of perfume by Estee Lauder and along with it I received samples of Idealist.


Brief History:
I am a middle-aged woman, but have been fortunate to always look a few years younger than I am. At this point I have almost no wrinkles; perhaps as I stopped tanning at age 35. However, I do have redness on my chin and broken capillaries, from plucking out stray hairs, and I have some fine lines between my eyebrows. Moisturizers have been a part of my life for the last several years, but my skin remains "combination" with parts being oily, and other parts tending to be dry.


Product Claims:
This is a non-acid skin refinisher, eliminates pores, fine lines, flakiness, and alleviates redness.
Secondly they state that this is a unique skin refinisher that continuously smoothes skin's surface.
They even go so far as to say that users of the product will realize 56% improvement in skin's texture, and 69% reduction in the look of pores.


Directions For Use:
Estee Lauder suggests you use this product after cleansing your face, both in the morning and evening, and apply to your face and throat. You may apply your regular moisturizer following. The company recommends you use along with Daywear Protective Anti-Oxidant SPF15, and Perfectly Clean Foaming Gel Cleanser.


My Findings:
As my skin is very sensitive, I was pleased to learn that this product is hypoallergenic and dermatologist tested. The scent is a light, very, very pleasing citrus. I love the fragrance of the product, and I tend to be very picky about scent. The consistency is rather thin but not runny, and the color is a pure snow white.
I have used several of the Idealist Skin Refinisher samples, and each I have squeezed out until there is absolutely no more product in the packet. Not only is the scent wonderful, it cumulatively removes the redness in my skin, makes it softer than it has ever felt. My pores which are rather enlarged from a moderate case of teenage acne have been greatly reduced in size, and the texture has been smoothed out. I don't know what more someone could expect from a product. I find the Estee Lauder Idealist, truly a miracle in beauty products.
I very, very strongly recommend this fantastic, even miraculous product, for those who can afford it. Alas, I cannot. I give Idealist 5 stars!
Clarins Review
Clarins "Paris" is a cosmetic brand that specializes in skin care treatments and makeup products. Like many other cosmetic brands found in common departments stores, Clarins is a "high end" beauty line. Since 1954, this skin care line has offered a broad array of treatments for women and men. There are essentially seven different categories found within the Clarins brand. These are Face, Make-up, Sun Care, Well Being, ClarinsMen, Fragrance and Body. Although all Clarins products are available through the official website, they are also offered in select department stores. Free samples are not offered on the website, but may be available in stores.
Similar to many skin care treatments currently available, Clarins incorporates key ingredients such as essential oils and natural plant extracts. This line of skin products offers something for every skin type and aims to assist with common skin dilemmas like aging, sun damage, hyper pigmentation, crow's feet, dry skin, acne, fine lines, irritation and facial wrinkles. The official website offers a store locator apparatus, as well as "beauty advice." Furthermore, Clarins separates skin care treatments into age groups such as 30's, 40's, 50's, ect. All Clarins products come with a 30-day money-back guarantee, however, customer reviews are not available.


Product Details
Clarins is a "high-end" skin care and makeup line that offers many products intended to suit all women and men of varying skin types. This brand emphasizes the use of notable ingredients like natural plant extracts and essential oils. These skin products are claimed to help users with anything from aging, to sun damage, to hyper pigmentation, to crow's feet, to dry skin, to acne breakouts, to fine lines, to irritation, to facial wrinkles.